Since 2007 we've been providing successful nighttime moose tours from North Conway, New Hampshire. Now with over 1500 moose tours done lots of experience has been gained. Our season is late May to October. Departure is about 8 PM and return is scheduled to be by midnight.
For your travel comfort, an enclosed 33-seat stop on, step off bus is employed with a flat screen TV mounted up front. A handful of interesting wildlife DVDs are played throughout the night. There is no bathroom on the bus, but there will be a bathroom stop at some point during the tour. For photo opportunities, the bus's windows slide open.
We look forward each season to make more riders happy.
It's an experience found no where else. Most find it informative and entertaining. It's appropriate for moose seekers of all ages. We have years of success with riders returning saying "we saw moose!"
Check out our 2023 Calendar.
Click to enlarge.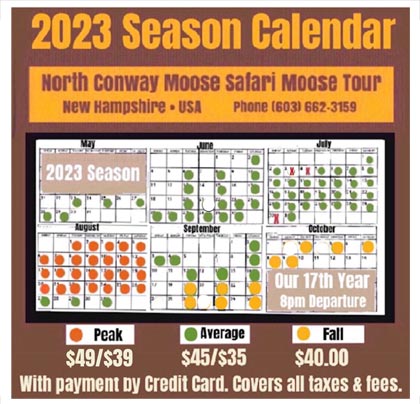 We often update our Facebook page...
North Conway Moose Safari Moose Tours
A partial schedule is done late May to October. We attempt to run nightly from late May through the end of August. You may check our our updated calendar on Facebook page. CLICK HERE.
So you're invited to make a reservation then seek moose on our 3 1/2 plus or minus hour nighttime moose safari moose tour. Importantly, we have a great reputation at lodging front desks throughout North Conway's Mount Washington Valley. Ask any of them.
We have a darn good success rate because our driver has over 4000 hours logged at the wheel seeking moose throughout New Hampshire's White Mountains. We are able to seek, see, and often sit and view wild New Hampshire moose after dark because the state allows us to use flood lights and spotlights. It's attempted to have this adventure be enjoyable for moose seekers of all ages. Most will agree it is.
To summarize, expected success is about 94% through August. Success drops in September and October yet the fall is when the full moose has full grown antlers. It's a majestic sight to see a mature, big bull moose with a set of fully grown antlers.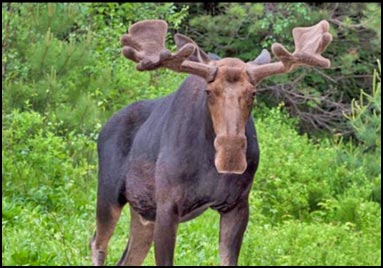 Each night is different which keeps things interesting for our driver. He never knows exactly how the night may go an where moose will be seen, yet he finds them with awesome success.
Please remember that the MOOSE we seek to see at night are wild animals and are unpredictable. On every tour we put our experience to work and try our best in the time allowed to have everyone return having seen MOOSE. On every tour it's attempted for all aboard to have an informative, fun, enjoyable and safe experience ... and return saying "We saw MOOSE!"
Over the years, tens of thousands of riders have enjoyed this moose experience. We invite you to do likewise. So make plans to have this nighttime MOOSE tour be part of your North Conway White Mountains vacation experience and enjoy a night of MOOSE entertainment.
We look forward to meeting you and to share with you a true
New Hampshire White Mountain Adventure.